Article: Start-ups in Drogheda & Louth Area
07 December 2023
A newspaper article printed in the Drogheda Independent on the rise in the number of start-ups in the Drogheda/Louth area featured comments by Osborne's Maria Doherty, our Client Engagement Manager.
See the full article here: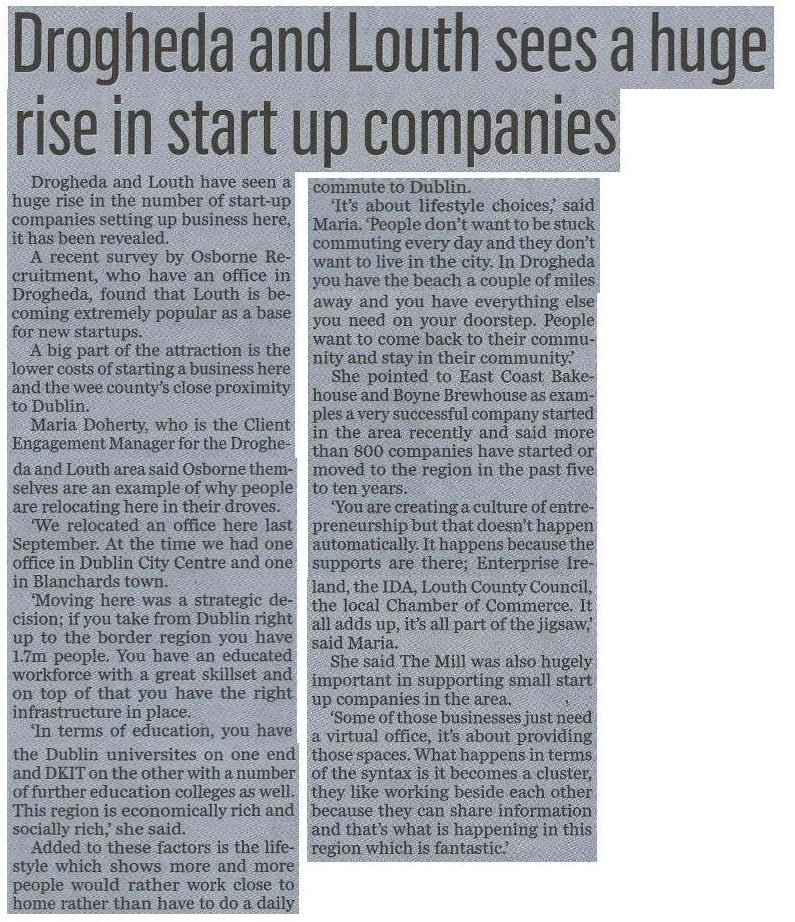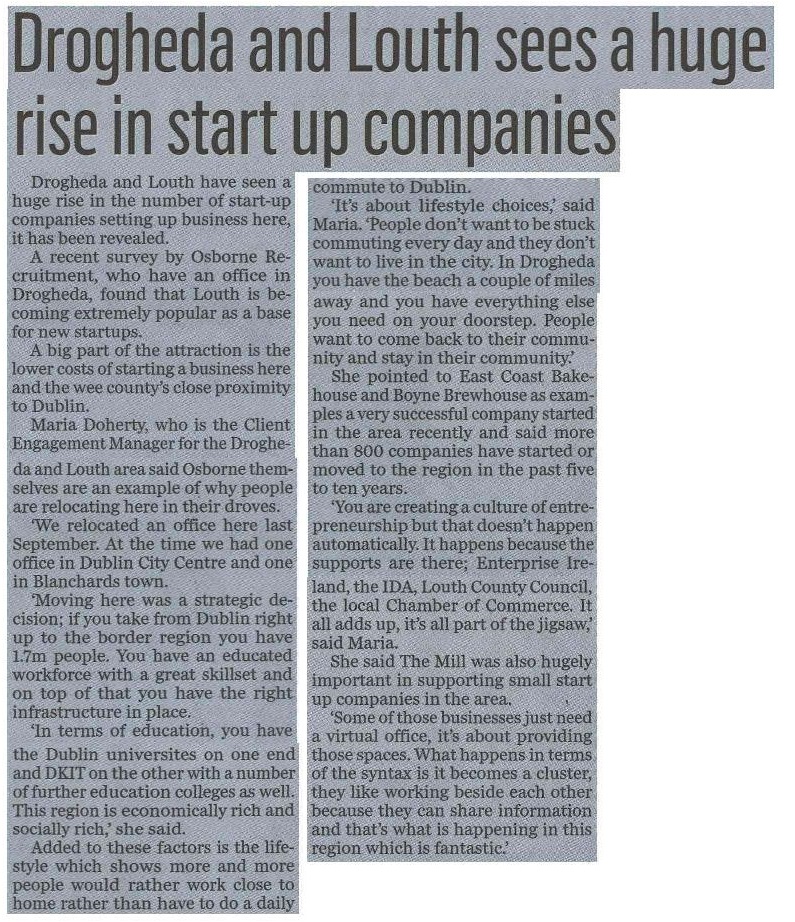 Drogheda and Louth sees a huge rise in start up companies
Drogheda and Louth have seen a huge rise int he number of start-up companies setting up business here, it has been revealed.
A recent Survey by Osborne Recruitment, who have an office in Drogheda, found that Louth is becoming and extremely popular as a base for new start-ups.
A big part of the attraction is the lower costs of starting a business here and the wee county's close proximity to Dublin.
Maria Doherty, who is the Client Engagement Manager for the Drogheda and Louth area said Osborne themselves are an example of why people are relocating here in their droves.
'We relocated an office here last September. At the time we had one office in Dublin City Centre and one in Blanchardstown.
'Moving here was a strategic decision: if you take from Dublin right up to the border region you have 1.7m people. You have an educated workforce with a great skill set and on top of that you have the right infrastructure in place."
'In terms of education, you have the Dublin universities on one end and DKIT on the other with a number of further education colleges as well. This region is economically rich and socially rich; she said.
Added to these factor is the lift style which shows more and more people would rather work close to home rather than have to do a daily commute to Dublin.
'It's about lifestyle choices,' said Maria. People don't want to be stuck commuting everyday and they don't want to live in the city. in Drogheda you have the beach a couple of miles away and you have everything else you need on your doorstep. People want to to come back to their community ab stay in their community.'
She pointed to East Coast Bake-house and Boyne Brewhouse as examples a very successful company started in the area recently and said that more that 800 companies have started or moved to the region in the past five to ten years.
'You are creating a culture of entrepreneurship but that doesn't happen automatically. it happens because the supports are there' Enterprise Ireland, the IDA, Louth County Council, the local Chamber of Commerce. It all adds up, it's all part of the jigsaw,' said Maria.
She said the Mill was also Hugely important in supporting the small start up companies in the area,
'Some of those businesses just need a virtual office, it;s about providing those spaces. what happens in terms of syntax is it becomes a cluster they like working beside each other because they can share information and that's what is happening in the region which is fantastic.'