Our Purpose
Right Person.
Right Job.
No Compromise.
Right person. Right Job
No compromise.
One single, consistent purpose underpins all that we do; to fit the right people with the right jobs in the right organisation. Every day we ensure that we take a more considered, innovative, caring and consultative approach to recruitment so that we can deliver on that promise. To do it right. To make a difference.
We seek to deeply understand both candidates and employers.
We work hard to develop innovative recruitment services and solutions.
We make sure we respect and care for everyone; our team, our clients and our candidates. Regardless of their seniority, status or role.
We persist until we help make the right fit.
Work with the Best in the Business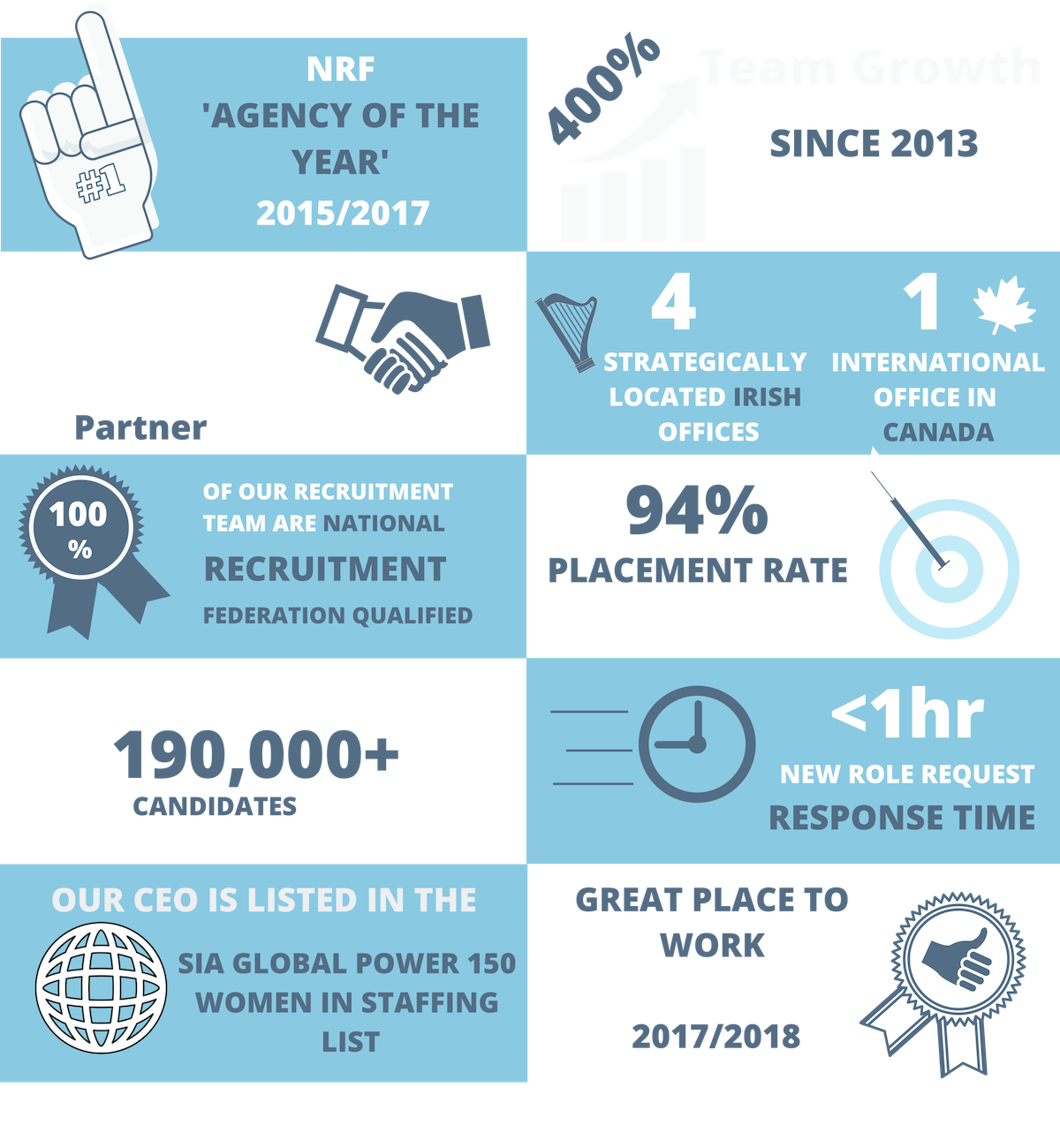 Shona McManus, CEO/Owner
Great businesses are built with great people. At Osborne, our world-class recruitment process is powered by a group of highly trained, award-winning expert group of recruitment professionals.
Our Journey
Our team is your team
At Osborne collaboration is everything.
Every day, our team of specialist recruiters combine their skills, talents and expertise to deliver the best possible outcome for our clients and candidates.
We are career recruiters. We love what we do and it shows. As a client or candidate, rest assured, our team of award- winning dedicated recruiters are on hand every step of the way to find that perfect match for you.
Shona McManus
Chief Executive Officer / Owner
Shona McManus, a highly accomplished and innovative business leader, has successfully managed in both large multinational and indigenous Irish recruitment firms. Since taking the helm at Osborne, innovation and entrepreneurship has been at the forefront of everything we do. Shona's passion for recruitment, commitment to delivering for candidate, client and employee and her MBA sharpened commercial acumen now sees Osborne expanding its offering, opening new offices and extending its reach around the world.
David Walsh
Director of Commercial Development
Highly experienced international recruitment professional with a proven track record of delivering for client companies in Ireland, Australia, New Zealand, Canada and the Middle East. Dave is highly respected by his clients for providing innovative and cost effective recruitment solutions. Global experience coupled with a local focus sees Dave advising organisations across Ireland and beyond.
Rachel Brown
Recruitment & Business Manager Toronto
Rachel, an accomplished and experienced recruitment consultant is leading the Osborne Canadian Team. Rachel began her career in Financial Services and Corporate banking with international leaders Citigroup and BNY Mellon.
Rachel moved to industry accounting with Nurendale t/a Panda in Ireland. Whilst part-qualifying through ACCA, Rachel successfully developed her eight year long career in Panda throughout the company to management level, going on to undertake a BA in Business Management.
Realising her passion for recruitment, Rachel joined the Sinclair Recruitment Team in Perth, Australia as Recruitment Consultant for their Accounts, Finance and Legal team.
Upon returning to Ireland, Rachel transferred her accounting qualification to CPA after witnessing the international recognition that it received and joined Gilligan Black as the sole Accounts & Finance Recruitment Consultant, completed her BA in Business Management and before moving to the Osborne Accounts & Finance team as a Senior Recruitment Consultant in where she joined their Dublin team whilst undertaking the final stages of CPA Ireland and IPASS – Payroll qualification.
Rachel has a wealth of experience working with our Canadian clients and has spent the past year building and strengthening client relationships as well as assisting national and internationally experienced qualified and part-qualified accountants to find the right role for them in line with Osborne's promise. Right Person. Right Job. No Compromise.
We're growing our team
Come aboard
Hop on, settle in and be part of the journey.
Are you an honest, capable, hard-working person? Have you decided to apply your talents to the art of recruitment? Are you passionate about placing the right people in the right job in the right organisation? Are you looking to grow your career with an ambitious, modern and fresh recruitment company? If so we'd like to talk! Now and for the foreseeable future we will be significantly growing our team of recruitment professionals. We're building one of the most innovative, focused, highly-regarded services in the industry. Hop on, settle in and be part of the journey.
In 2018 Osborne Recruitment opened the doors to our Toronto office. We are an Irish owned Recruitment Consultancy with 5 offices in Ireland.
For a number of years we have partnered with organisations in Toronto providing excellent Recruitment Services, due to that success we opened an office to support those relationships and develop new ones.
Osborne is a certified Great Place To Work, has won numerous Recruitment industry awards, we are active member of Business chambers and industry associations including SIA & ASA.
Whist we have some existing partners, this will be a start-up office. The successful Recruitment Consultant will need to embrace the Osborne Way of working, our ethos & values and be driven and motivated with a "hands on" & "can do" attitude.
With the support of a Business Development & Marketing departments, you will be proactive in seeking out new networks, new business, hunting to find the right candidate to ensure our quality standards are maintained.   Our purpose every day is Right person, Right job, No Compromise.
Do you feel you would like to be part of our amazing team and are interested in working for an International company? To find out more about this exciting new role  please contact  Ayesha Thompson in confidence   ayesha.thompson@osborne.ie
Download Job Spec