Osborne Article in Sunday Business Post – July 2016
07 December 2023
The Sunday Business Post recently published an article by Osborne's CEO & Owner, Shona McManus, on the workplace of the future.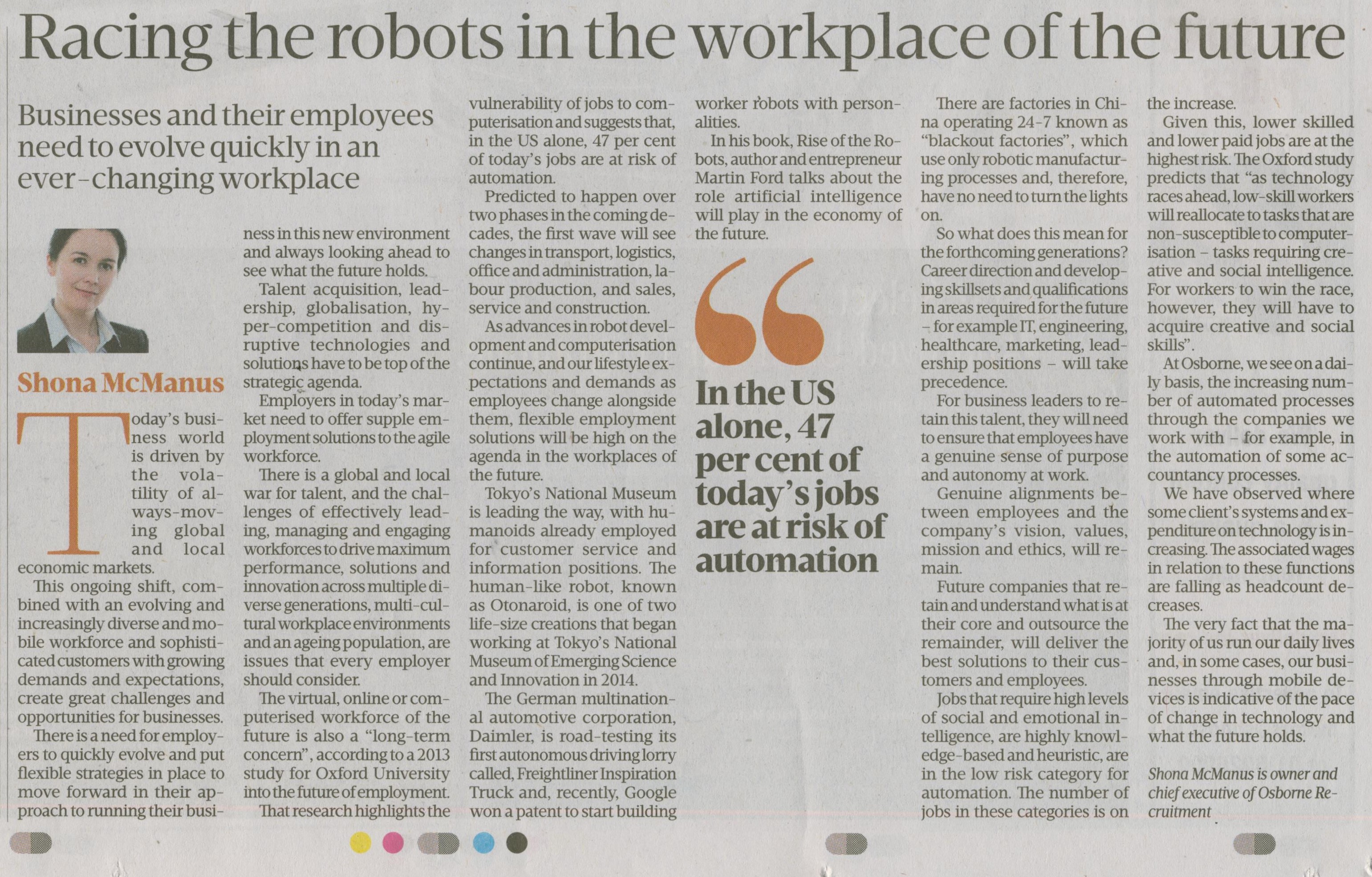 The Workplace of the Future – Sunday Business Post Article
Shona McManus, CEO and Owner of Osborne
Today's business world is driven by the volatility of always-moving global and local economic markets. This ongoing shift, combined with an evolving and increasingly diverse and mobile workforce and sophisticated customers with growing demands and expectations, create great challenges and opportunities for businesses. There is a need for leaders and management to quickly evolve and put flexible strategies in place to move forward in their approach to running their business in this new environment and always looking ahead to see what the future holds. Talent acquisition, leadership, globalisation, hyper-competition and disruptive technologies and solutions have to be top of the strategic agenda.
Employers and business leaders in today's market need to offer supple employment solutions to the agile workforce. There is a global and local war for talent, and the challenges of effectively leading, managing and engaging workforces to drive maximum performance, solutions and innovation across multiple diverse generations, multi-cultural workplace environments and an ageing population, are issues that every employer should consider.
The virtual / online / computerised workforce of the future is also a 'long-term concern', according to Cark Benedikt Frey and Michael A. Osborne in their 2013 study for Oxford University into the future of employment. Their research highlights the vulnerability of jobs to computerisation and suggests that in the US alone, 47% of today's jobs are at risk of automation. Predicted to happen over two phases in the coming decades, the first wave will see changes in transport, logistics, office and administration, labour production, and sales, service and construction.
As robot development and computerisation advances continue, and our lifestyle expectations and demands as employees change alongside them, flexible employment solutions, high engagement and business requirements will create the need to evolve workforce solutions and workplaces for the future.
Tokyo's National Museum is leading the way, with humanoids already employed for customer services and information positions. The human-like robot, known as Otonaroid, is one of two life-size creations who began working at Tokyo's National Museum of Emerging Science and Innovation in 2014. The German multinational automotive corporation, Daimler, is currently road testing its first autonomous driving lorry called, Freightliner Inspiration Truck and recently, Google won a patent to start building worker robots with personalities. According to author and entrepreneur Martin Ford in his book Rise of the Robots, he talks about the role that AI and robotics will play in the economy of the future. There are factories in China operating 24/7 known as 'blackout factories' as there are only robots manufacturing products and therefore there is no needs for lights to be turned on.
So what does this mean for the forthcoming generations? Career direction and developing skillsets and qualifications in areas required for the future – for example IT, engineering, Healthcare, Marketing, Leadership positions – will take precedence. While for business leaders to retain this talent, they will need to ensure that employees have a genuine sense of purpose and autonomy at work. Genuine alignments between employees and the company's vision, values, mission and ethics, will remain, and future companies that retain and understand what is at their core and outsource the remainder, will deliver the best solutions to their customers and employees.
Jobs that require high levels of social and emotional intelligence, are highly knowledge based and heuristic are in the low risk category for automation and the number of jobs in these categories are on the increase.   Given this, lower skilled and lower paid jobs then are at the highest risk. Frey and Osborne predict that 'as technology races ahead, low-skill workers will reallocate to tasks that are non-susceptible to computerization, tasks requiring creative and social intelligence. For workers to win the race, however, they will have to acquire creative and social skills'.
At Osborne, we see on a daily basis the increasing number of automated processes through the companies we work with, for example, the automation, streamlining of some accountancy processes. We have observed where some client's systems and expenditure on technology is increasing and the associated wages in relation to these functions are decreasing as headcount decreases. The very fact that the majority of us run our daily lives and in some cases our businesses through mobile devices is indicative of the pace of change in technology and what the future holds.