Osborne – Great Place To Work Certification
29 November 2023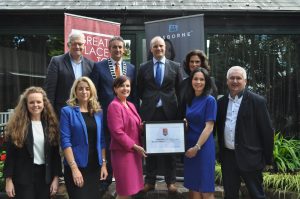 Here at Osborne we are celebrating a number of company successes. CEO and owner, Shona McManus, announced that since the change of ownership in 2013, Osborne received a Great Place To Work certification, quadrupled its turnover, and the company has created and is currently recruiting for a further 15 new jobs across its three office locations.
Osborne are very proud to have been awarded the Great Place To Work certification by Great Place To Work Institute Ireland in July 2017. The certification recognises the achievement of both management and colleagues in building a high trust workplace environment, and we will hold the accolade for the next 12 months.
CEO of Great Place To Work, John Ryan, commented: 'It is clear that Osborne Recruitment has developed practices that form the essence of the company's culture, which has resonated positively with employees. We were impressed that Osborne Recruitment has focused significantly on the 'why' of what they do. This is clearly defined in the company's mission and in 'The Osborne Way', and it is a key driver behind this achievement.'
Adding to this, Shona McManus, CEO and owner of Osborne, said: 'At Osborne, our aim as a team is to always have a clear focus, whether that is in developing the company's culture and ethos, or placing the right person in the right role with no compromise. The Great Place To Work certificate is testament to the work we have done internally, with the help of our colleagues, to build engagement, create opportunities for development and establish a high-trust environment for the team to grow in. Looking forward to 2020, we have clear plans in place, not only for the business and the brand, but most importantly, for the team who will get us there.'
Privately owned by Shona McManus, the growth in Osborne over the past four years has been organic and 100% self-funded. Since 2013, we have invested significantly in developing our people and culture, which has resulted in a quadrupled headcount, three office locations, and a new brand to support this change for our candidates and clients.
For further information on Osborne, please contact CEO Shona McManus on (01) 638 4400.